Clinical Data and Supporting Evidence
Fast. Accurate. Informed.
TREAT PATIENTS WITH PRECISION WHEN SECONDS COUNT IN CRITICAL CARE
The Ceribell Rapid Response EEG system has been clinically demonstrated to empower critical care physicians to make faster, more accurate diagnostic decisions for informed treatment choices.
Ceribell™ Rapid Response EEG was demonstrated to significantly improve clinical accuracy and confidence
The DECIDE study was a prospective, multi-center observational study that evaluated the clinical impact of Rapid Response EEG.
Wait-time to Ceribell EEG was 5 Minutes compared to 4-hours with conventional EEG
Diagnostic accuracy with Ceribell EEG was 90% versus 65% Using Clinical Judgement Alone
Diagnostic confidence was 86% with Ceribell versus 40% Using Clinical Judgement Alone
Ceribell with Clarity provides 24/7 EEG monitoring with consistently high performance for seizure burden assessment and bedside alert
The Clarity study was a retrospective, 6-center study that evaluated the performance of Clarity to measure the burden of seizure activity and generate bedside alerts for possible status epilepticus.
100% Sensitivity for detecting and alerting for non-convulsive status epilepticus
99% negative predictive value for ruling out seizure
Ceribell Brain Stethoscope™ allows highly sensitive spot-checking for detection of seizures​
This study compared the sensitivity and specificity of nurses and medical students for the detection of seizures using Brain Stethoscope versus that of EEG-trained neurologists.
Methods: 69 nurses and medical students used the Brain Stethoscope function to evaluate EEG for seizure activity while 14 neurologists used the visual readout to evaluate the same EEGs.
Results: Nurses and medical students had a higher sensitivity for the detection seizures when using Brain Stethoscope.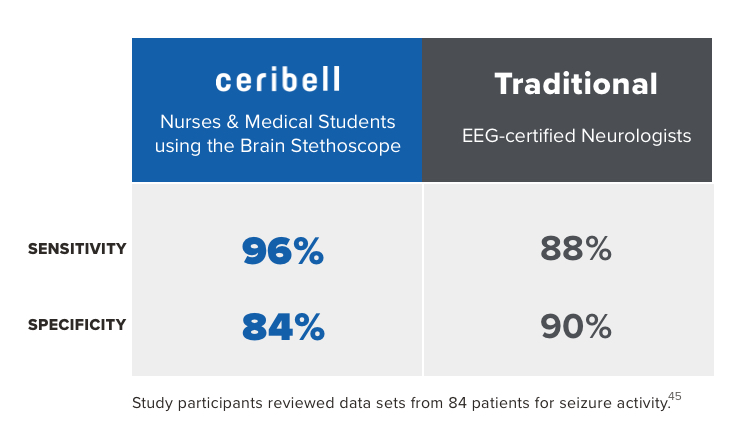 Ceribell electrode signal quality was equivalent to conventional EEG
This study assessed signal quality of the Ceribell Rapid Response EEG system compared to that of two conventional EEG systems to confirm the Ceribell signal quality performance was equivalent to gold standard conventional EEG.
Methods: Ceribell electrodes were placed side-by-side on the same patient with traditional EEG system electrodes and simultaneous recordings were then compared.
Results: The two EEG results showed equivalent signal quality and durability (see overlaid signal).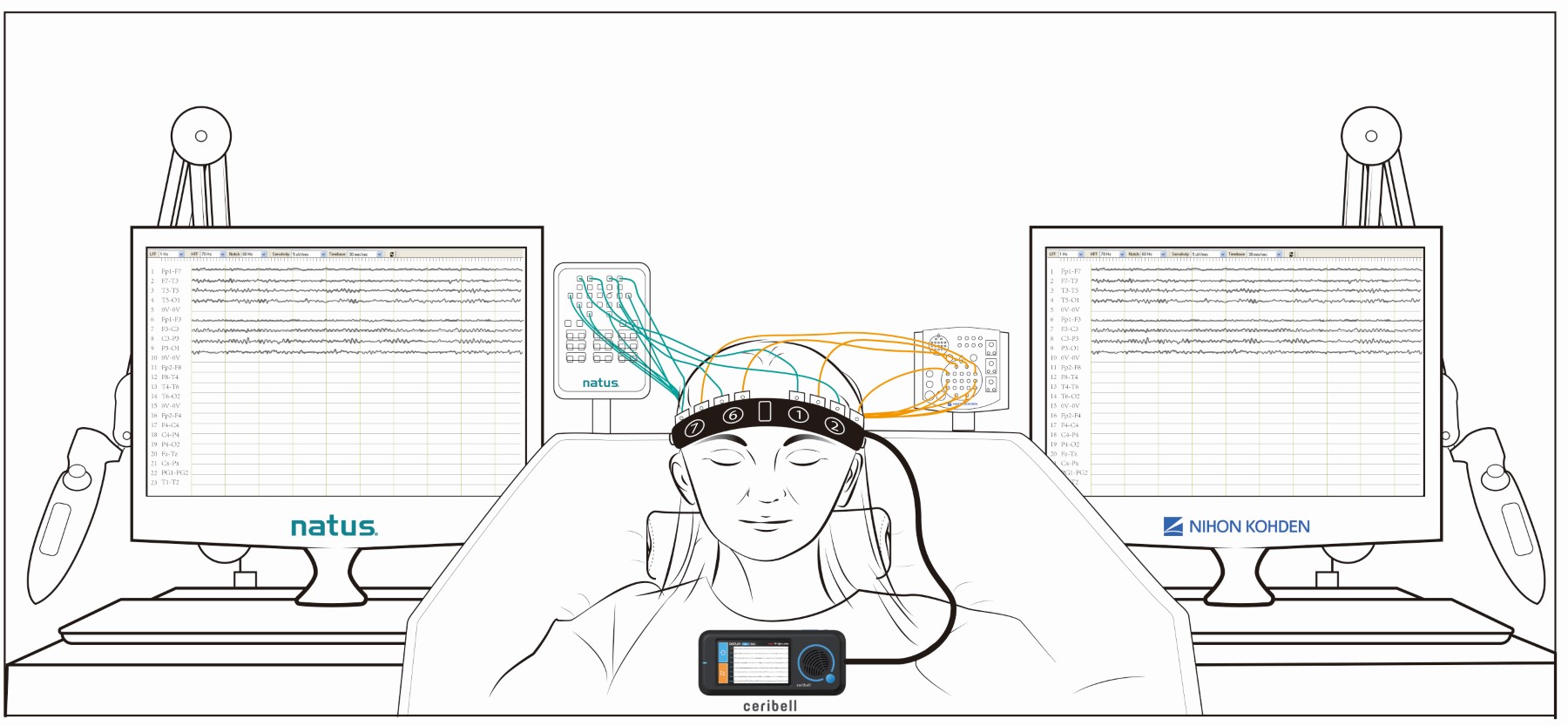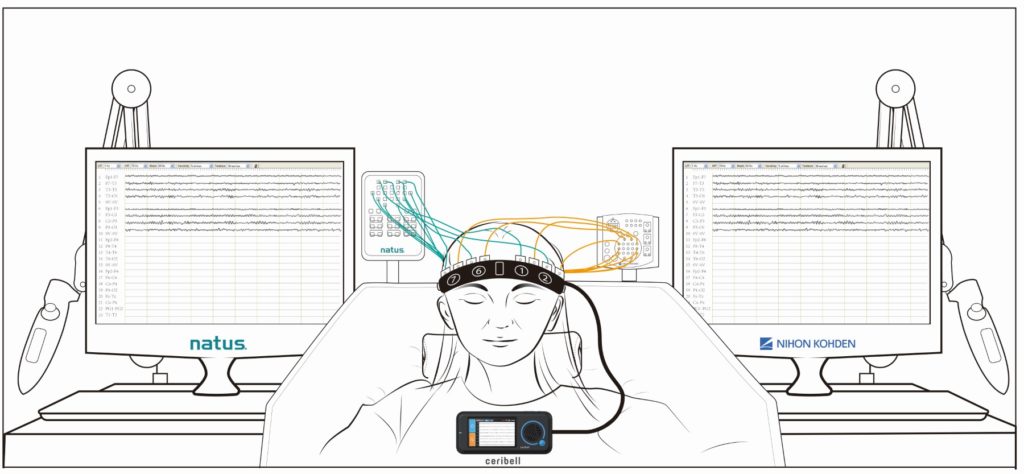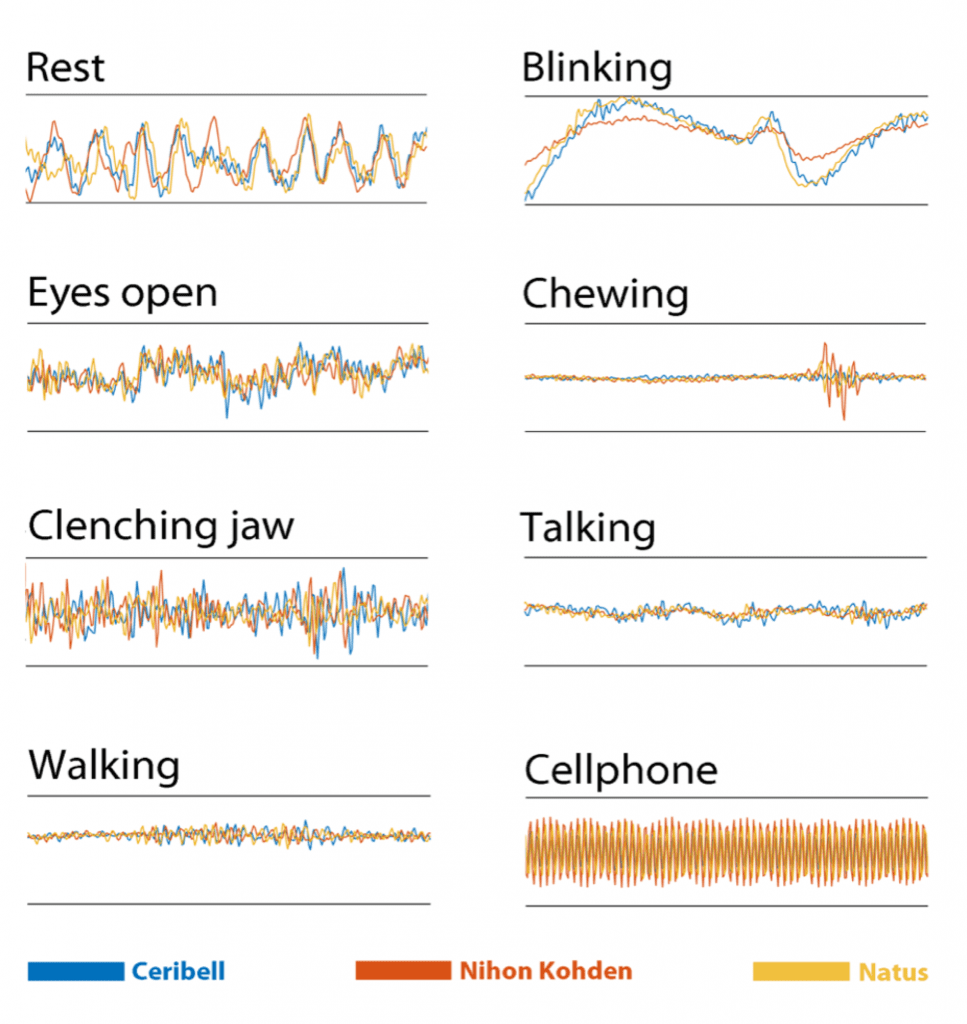 EEG recordings using a circumferential 10-electrode montage meet the gold standard for seizure detection
This study assessed whether reduced montage EEG (rm-EEG) systems, like that used by Ceribell, meet the gold standard full-montage EEG (fm-EEG) for detection of seizures. In the case of discordant diagnoses, it further sought to determine whether the difference was due to electrode reduction or to asymmetric access to ancillary information.
Methods: 212 fm-EEGs were reviewed with access to ancillary information. The same EEGs were converted to rm-EEG (10 electrodes) and different neurologists read them with no ancillary information. EEGs with discordant readings between the two groups were then reviewed again with no access to ancillary information.
Results: The rm-EEG resulted in high diagnostic concordance (95%) with fm-EEG and high agreement between EEG-readers (93%) when ancillary information was equal.